PAKISTAN & NEPAL MINISTRY REPORT



Missionaries

Don

and Patti

Hall


Spring 2006



Dear Friends & Prayer Partners,



Thank you so much for your prayers over the past few weeks while I was in the Kingdom of Nepal (land of the Himalayas) and the nation of Pakistan. Those prayers and your loving support made it possible for hundreds of church leaders, Bible college and YWAM students to receive training. Also, thousands heard and responded to the Gospel in evangelistic crusades and other events. Below are some highlights of this special outreach:


After a short stop in Hong Kong where I spent a day with the staff & students at the YWAM base, I arrived in Katmandu, the capital of Nepal. I was further orientated to the culture and my schedule by YWAM leader, Manny Asprec. The first few days I taught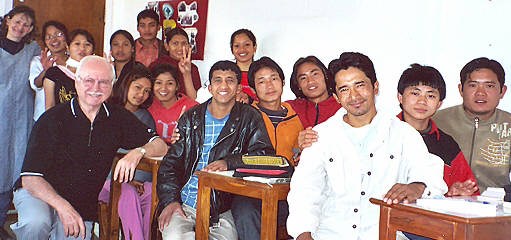 Homiletics to the 40 students attending the Bible college sponsored by the Nepal Alliance of churches. That weekend, I spoke at a missionary friend's church, the largest in Nepal with several branches. It was an awesome experience -- over 1,000 poor, yet joyful Hindu converts sat on the floor worshiping and hungry for God's Word. 30 first-time decisions to follow Christ were made that morning!

The next week at the DTS on the outskirts of the city, the teaching focus was on Spiritual Warfare. This is something YWAM Nepal lives out nearly every day. The nation is facing political turmoil, a King's dictatorial rule, demonstrations for democracy, bombings, curfews and daily power outages. The unemployment rate is at a record 45% in this poverty-stricken nation. With few cars, motorbikes are the common mode of transportation. After 3 days riding on bumpy-dirt roads, there was no doubt . . . I had a very bruised tailbone.

A little unnerving was the Muslim training school for young boys right next to Youth With A Mission. Some of the teachers were trained by the Taliban and often beat the students severely. One day while the boys were going through their military exercises, our students and staff did a Prayer & Singing March. The daily contrast is very visible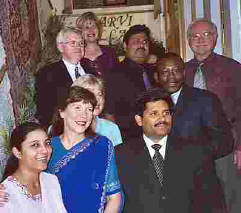 to the boys as they witness joy and freedom instead of fear and bondage. One boy told our staff, "you are in heaven there, we are in hell here!"

YWAM is also surrounded by Buddhist and Hindu shrines on the green hillsides. Many crops are farmed in the valley. One day while on a walk, to my surprise I discovered an abundance of marijuana growing everywhere. I was told it is a native plant to Nepal and is illicitly marketed worldwide. Also, opiates still flow easily through Nepal to Western countries.

But, in the midst of this darkness shines forth the light of the Gospel! Before leaving Nepal, I spoke to a gathering of 100 YWAMer's from around the Katmandu Valley. These dedicated Nepalese and Indian young people are being trained, some are already planting churches, while others are called to do missionary work in other nations of Asia and beyond. The torch is being passed to the next generation of youth, who are ready for the task!



Following a change of planes in New Delhi, India, I arrived in Lahore, Pakistan to join our Nations Light team for the next phase of ministry.

There were about a dozen of us from several countries. Most had served together last year in Sri Lanka in similar ministry. Some had been to Pakistan before, including Nancy Honeytree, a popular US Gospel singer. For the past 3 years she studied and even produced a CD in the local Pakistani language. The crowds response to Nancy's love and authenticity was enthusiastic.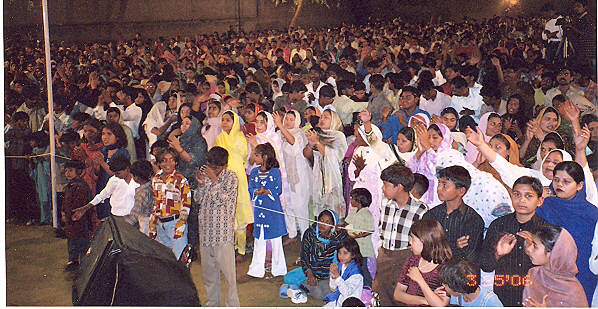 Each team member made significant contributions to the schedule of events depending upon the venue. My "pocket" trumpet was always a hit, especially among the children and youth. There were opportunities to preach and teach, both in Lahore and in the southern coastal city of Karachi. Over 70,000 people attended the open-air crusade meetings. Thousands attended leadership and women's seminars, church services, and a special concert. Tight security was required, especially for the evening crusades. Just after leaving Karachi, a suicide bomber killed over 50 people and injured many more. Each day we thanked God for His protection.

Local leaders said that these meetings were historical in both numbers and results, and were far more cost effective than past Christian events in Pakistan.


Most of the team remained in good health throughout our time there inspite of the heavy schedule, late hours, and change in diet. After returning, I was a little sick and weak, but nothing serious. I just had my annual physical. Blood and other tests were taken and all seem to be "normal." Another good thing -- I lost 12 lb. while gone!

Thanks to all of our prayer partners, regular supporters, and those who helped with a special gift for this important outreach. Together we have effected the eternal destiny of thousands of precious lives in two very strategic nations of the world . . . . and yet others still wait to hear the Good News.



Taking God's Love to the Nations,



Don & Patti Hall
Youth With A Mission



Home:

23365 Barnes Ln, Colfax, CA 95713

(530) 346-7111

Dphallmin@aol.com Support: University of the Nations 75-5851 Kuakini Hwy, Kailua-Kona, HI 96740 (Payable to "YWAM" and Designated for "Don & Patti Hall")