By David B. Hall
Special to ASSIST News Service
CHENNAI, INDIA (ANS)
-- A friend in Chennai (formerly known as Madras, India) took me around the city on the back of a motorbike that hardly had enough oomph to move out of the way when necessary. We visited various parts of this huge city, stopping only to visit another one of the many ministries of Youth With A Mission (YWAM). There were schools, coffee house ministries, homes for street kids, and so many more - 18 at last count, in Chennai alone. Each one has its own story of how it started. And of course there are many more stories of the lives that have been touched by God through the staff and volunteers who are reaching out to the hurting people here.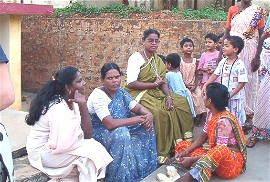 One of the ministries we visited - and later decided to help support - was a ministry that focuses on those who have been diagnosed as having AIDS. This ministry focuses on operating a hospice for women with AIDS - most of them are women who got AIDS from their unfaithful husband. But it keeps growing as they find new ways to show the love of God to these who are dieing. The ministry is led by J.D. Wilson who faithfully sends an update report each month - normally a detailed description of someone they are currently looking after. (Pictured: Some of the AIDS hospice residents).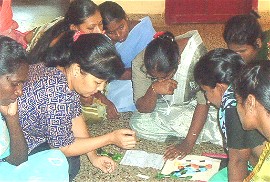 Wilson's latest report says: "Thank you very much for your prayers and financial support for this ministry. God has been doing wonderful things. Many lives have been touched by God... The home based care program is rapidly increasing and there are so many in need we are finding it hard to visit all the families every month. Many of the families suffer financially and some even go without food for a few days. We really try to come along side and help them in their felt needs. Let me share a few things with you. (Pictured: Some of the residents in the AIDS hospice learning to embroider).
"Hospice: Two days ago an eight day old baby girl and her mother arrived in our hospice. They both were referred by the YWCA project. The mother is from south Tamil Nadu, she is the second wife to her husband as the husband is living with another woman. We are yet to know all the details of the family. Both the mother and baby are keeping well. Please keep them in your prayers as they hear the Gospel in our home."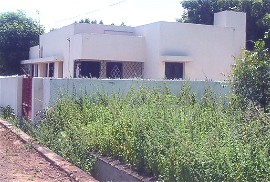 Wilson and his wife work with a small team of YWAMers (Youth With A Mission staff). Another part of their ministry to those with AIDS in Chennai is a Children's Care Center. He writes: "God has helped us to rent another house for the Children with HIV. We have seven children staying at the hospice now. But we will take more children once the house is ready. We need finances for buying the furniture for the house. Please pray with us. The present hospice house is going for sale. We are praying that God will provide the finances to purchase the house. The cost is approximately about US$20,000." (Pictured: AIDS hospice home).
This team of faithful workers is not content to just look after those in their hospice care. They regularly go to the hospital and prison and find many others in need of the Gospel and someone who cares for their situation. Wilson summarizes this part of their ministry in a request to help with their Christmas outreach: "Christmas Program: Christmas is approaching soon. We are planning to celebrate with all the inmates we visit regularly as well as the home based care families (75 families in all). We want to bless them with presents. We also want to give presents to the HIV victims in the hospital (400 patients)."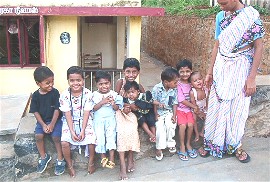 If you would like to give to support any one of these programs you can send it to Across Ministries. People in the US will receive a tax receipt. Be sure to include a note that it is for the AIDS Hospice ministry in Chennai. You could also designate more specifically for: Children's Care Center, Women's Hospice, House purchase, Prison Hospital & Home Visitation, the Christmas Program - or "where needed most". Note: All the sponsorship funds go as designated. Send to: Across Ministries, PO Box 1388, Lake Elsinore, CA 92531 USA or PO Box 13-580, Auckland 1132, New Zealand. (Pictured: AIDS ministry reaching out to children).
These faithful Indian Christians are indeed making an impact on the city of Chennai, India - one life at a time.

David Hall has served in missions in the Pacific & Asia region for over thirty years. He and his wife, Lydia, currently live in Auckland, New Zealand among many Polynesians and Asians. After helping to start Teen Challenge in Honolulu during the Jesus Movement, David pioneered Youth With A Mission in Samoa and Singapore as well as led the first YWAM school in Indonesia. He served for eight years as the manager of KFSH FM radio in Hilo, Hawaii and as part of the leadership team at the University of the Nations in Kona, Hawaii. David currently serves as the director for Across Pacific & Asia and president of Across International Ministries - www.across2u.com.


---
ASSIST News Service (ANS) - PO Box 2126, Garden Grove, CA 92842-2126 USA
E-mail: danjuma1@aol.com, Web Site: www.assistnews.net