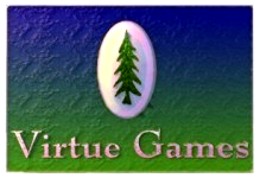 MARIN COUNTY, CA.
(ANS)
-- A new company is producing computer games aimed at the Christian market. (Picture: Virtue Games logo).
A news release from Virtue Games, located in Marin County, Ca., said the company's products are "free of gratuitous violence, foul language, sexual immorality and occultist themes."
According to the company, Virtue Games will instead focus on "epic story lines, positive values and brains rather than brawn."
Virtue Games described its products as being "adventure based." That means, a company statement said, "players become characters in the game and are immersed in rich virtual 'worlds,' where the player interacts with objects and characters, and solves problems similar to those in the real world."
"Virtue Games is producing games unlike any other in the Christian computer game market," said Cheyenne Wolford, Chief Game Architect of Virtue Games, in a news release. "The rich visual worlds and deep story lines truly grip the game player, and doesn't let go until they complete the game. Our games have the added benefit of being cutting edge enough to attract both hardcore gamers, as well as those new to computer games. Our audience is male, female, kids and adults. We aren't locked into a demographic."
According to Virtue Games, the company is breaking away from what it called the "mediocrity" long associated with Christian-themed computer games.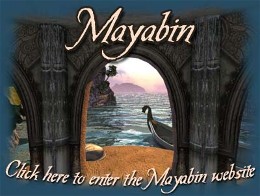 A statement from Virtue Games said the company has "brought together a team of highly experienced professionals, from computer industry graphics experts to Hollywood special effects gurus, to produce the highest quality Christian computer games to date. By utilizing full motion video, 3D generated graphics and employing powerful computer game engines, Virtue Games is delivering cutting- edge game- play experiences for game players worldwide." (Pictured: Mayabin logo).
Virtue Games has just released the graphical adventure game Isles of Derek, and has another title, Mayabin, which the company described as perhaps being "the most ambitious Christian computer game ever created."
According to Virtue Games, Mayabin (slated for a fall 2005 release) is so complex that the game will be shipped on DVD instead of on a standard CD.
"As a producer of Christian media content, we looked closely at the Christian computer game market and were astounded to find that you could drive a truck through that market gap," said Rick Tewell, President of Virtue Games, in a news release. "We are thrilled to bring awesome graphical adventure games, that tell epic stories to families as an alternative to the 'shoot to kill' games that are so prevalent in the market right now."