Helping Connect People.......with God
Jesus, and his committed followers through the years, took the love of God into the market places of communities: cities, towns and villages. Many times He didn't preach. He just prayed for people's felt needs. That led to further conversation. That's what the Prayer Station ministry is all about. We don't force anything on anybody. We do offer free prayer, to those who want it. Often this leads into an opportunity to share more about God and what Jesus' life and ministry was all about.
Prayer Does Change Things


Find out how the Auckland, New Zealand Prayer Station was involved in bringing
New Life in Singapore
.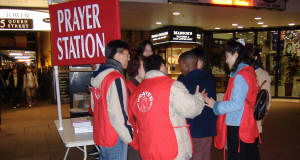 To read a recent update of the Prayer Station ministry,
click here
. Does Satan think he controls Queen Street? Read more:
click here
Prayer Station
poem gives a feel for this ministry.
Is There Anything
We Can Pray for You About?

Contact us at:
prayer@across2u.com
Would You Like to Help?
If you're interested in joining us in Auckland - as an individual or a group - cantact: Across Ministries:
apa@across2u.com
- 021 039 6739.
If you're interested in a prayer station for your New Zealand community contact us at:
prayer@across2u.com
, or for other parts of the world, contact
YWAM NYC
.
Why wear that vest?
Prayer Networks